Mary Gift - Your Treehouse Tourguide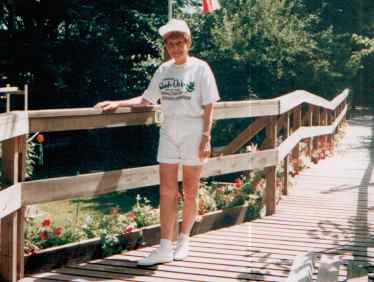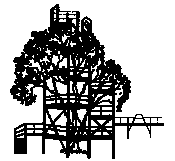 THE GOLDEN LINK
Folks from Washington, D.C., every state, and 57 countries (plus 8 Canadian provinces), have walked down the boardwalk to the Treehouse fantasy in my backyard at historic Shady Oaks.
If you visit, you will spend some quality arboreal time in Mick's Big Treehouse at his boyhood home, nestled in a peaceful and harmonious setting. You may experience a moment of repose or take time to dream. From the Treehouse, there are lofty views of meadow, woodlands, and stream; and from the 2002 Spiral Stairway, unusual angles of the Treehouse may be observed.
In 1996, I completed a book depicting the history of Shady Oaks where the Treehouse is located. It is entitled "Quarter-Mile Link." "The Golden Link" is an exclusive excerpt from the book about Mick¹s Big Treehouse. The following text and photos exemplify the continuing popularity of the renown campground area sheltered by the famous "Bur Oaks of Shady Oaks."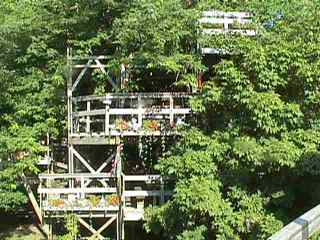 The East View of the Big Treehouse
Sometimes, the Golden Link sparkles in the sunlight; or it stands as a fortress (shrine) against a gray sky. Summer breezes fan troubles away, and the mystical, sylvan spirit casts its spell.

Back to the Main Treehouse Menu