Welcome to My Treehouse Hobby:
- - - - - - - - - - - - -
This page is under CONSTRUCTION
.... Just Like The Big Treehouse is under construction after the
August 10, 2020 Derecho wind storm that damaged The Big Treehouse
and much of Central and Eastern Iowa.
Sadly, there are

no visits/tours
to the treehouse until further notice.
- - - - - - - - - - - - -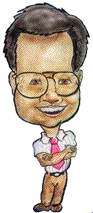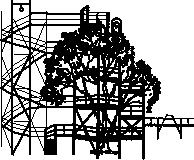 constructed by Mick Jurgensen and family:
Judy Gift-Jurgensen, Liz Fischer-Jurgensen, Mary Gift, and Robert Gift.

Featured on the Discovery Channel's Monster Nation Series Episode #35!
---
The Big Treehouse is my Hobby! The Big Treehouse began in 1983, and it is located near Marshalltown, Iowa. It is a 12-level, 55-feet plus high, Treehouse with over 5,000 square feet of floor space, complete with music, electricity, telephone, microwave oven, refrigerator, running water, grill, 13 porch swings, Shady Oaks Museum, 2002 Spiral Stairway, and much, much more.
---
VISITS TO THE TREEHOUSE ARE BY APPOINTMENT AND GUIDED TOUR ONLY!
CALL (641) 752-2946 TO MAKE AN APPOINTMENT
For more information YOU MAY EMAIL....________@mchsi.com
or Contact: Mary Gift
2370 Shady Oaks Road
Marshalltown, Iowa 50158
---
- - Please Browse These Related Pages: - -

Click Here to Visit the Marshalltown Milestones Sound and Light Show Web Page

Click Here to Visit Shady Oaks Campground Page

Click Here to Visit the Historical Grove of Bur Oak Trees Page

Click Here to Visit the Quarter Mile Link (History of Shady Oaks on The Lincoln Highway) Page

Click Here to Visit the Restored Lincoln Highway Cabin Page
---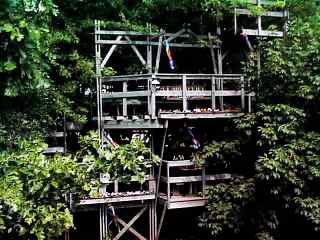 A View of the East Side of the Big Treehouse
---
To learn more about the Treehouse, choose among the following options:
- - - Treehouse Times - - - Print a .pdf handout for the season tells the story of The Big Treehouse. Need Adobe Acrobat reader.
- - - Treehouse Location - - - Here's a map that will help you find The Big Treehouse near Marshalltown, IA
- - - Treehouse Guide Map - - - A .pdf map you can print of the treehouse complex. Need Adobe Acrobat reader.
- - - A Message from Mick - - - My grandmother is the voice of The Big Treehouse. If it were not for her, it would remain unseen by visitors. She refers to The Big Treehouse as "The Golden Link."
- - - Build It and People Come! - - - Visitors have come to the treehouse from all over the United States and the World! Click here to see if your state or country are represented.
---

Click Here to See the Spiral Staircase Being Built
Click Here to See More Photos of The Big Treehouse
Soon You can Click Here to See The Incredible Halloween Treehouse Walk
---
Many people come to see the Big Treehouse.....
You might want to also. Here are the details!
Please remember, it is only my hobby; and my grandmother Mary Gift and my mother Judy Jurgensen show it to visitors when they are available. The Big Treehouse is shown by guided tour only. It is not a childrens' playground. In fact, it was created by an adult with adults in mind. It is much like the deck built on the back of your home.
Tours are by appointment only. If you would like to contact the Treehouse for a tour, please call my grandmother Mary Gift at (641) 752-2946 or email her below.
TREEHOUSE VISITS ARE DURING FAIR WEATHER DAYS
AND WARM WEATHER MONTHS ONLY!
---
If you would like to e-mail, here you go...._________@mchsi.com
---